>
>
>
>
Magene Smart Trainer Gravat T300 Indoor Power Smart Trainer
Magene Smart Trainer Gravat T300 Indoor Power Smart Trainer
Magene Gravat 3 T300 Indoor ±2% Accuracy 22% Slope 2600W Power Smart Trainer Direct Drive Ultra Silence OneLap
Totally interactive home trainers that replicate rugged terrain or training power levels, using ANT+ and Bluetooth Smart protocols to communicate via Onelap or third party app/software (Zwift, TrainerRoad, etc.).
Quiet, intuitive, compatible
Total interactivity ANT+ BLE
Increased power output 2600w
Slope simulation 22% gradient
Accurate power measurement 3%
Compare


Smart power trainer on indoor cycling platforms is becoming more popular and fashionable. It could ensure the schedule of your riding, maintain the rhythm of training without having to endure the harsh road conditions, rainpours. Thus, spending more time with your family. When you have an intelligent Magene T300 , you could meet your physical and psychological needs.
With the new third generation Magene T300, it brings your leg power to the next level.
The measurement system uses the new PMS multi-dimensional power measurement,verified by 100,000 users worldwide. While there is no power meter, it  could reach ±2%power accuracy as a true power meter!
Based on the multi-dimensional measurement, calibration, and compensation algorithms, it is more realistic and reliable. At the same time, the power output is up to 2600W, which could provide 22% slope simulation to meet various training needs. Not only that, you could also complete high-intensity training with your friends.
• 21CM folding width
• 2600W maximum power
• 73000KG * MM2 Riding Inertia
• 22% maximum slope simulation
• Mobile power mode, support mobile power supply
• Power meter accuracy + 2%
• Support ANT+ & Bluetooth dual protocol
• ERG / FE-C intelligent resistance adjustment mode
• Power assist such as electromagnetic zero + temperature compensation
FREE ONELAP virtual cycling apps HERE – https://www.facebook.com/magene.my/
The Magene T300 introduces a steel + aluminum alloy + composite body, a front and rear handle design. An aluminum alloy forged base enhanced stability, which also efficiently dissipates heat and solves power errors caused by thermal attenuation of electrical performance.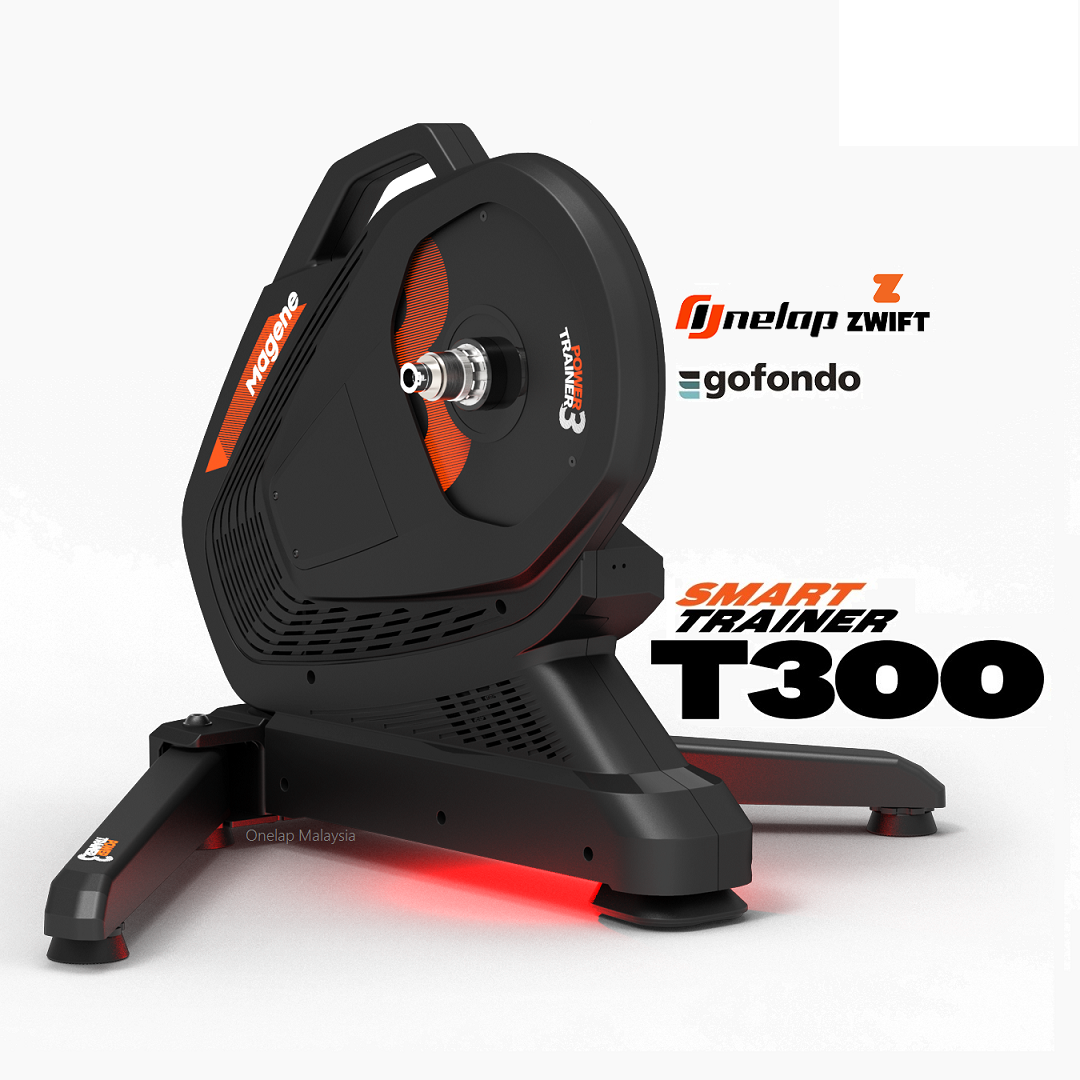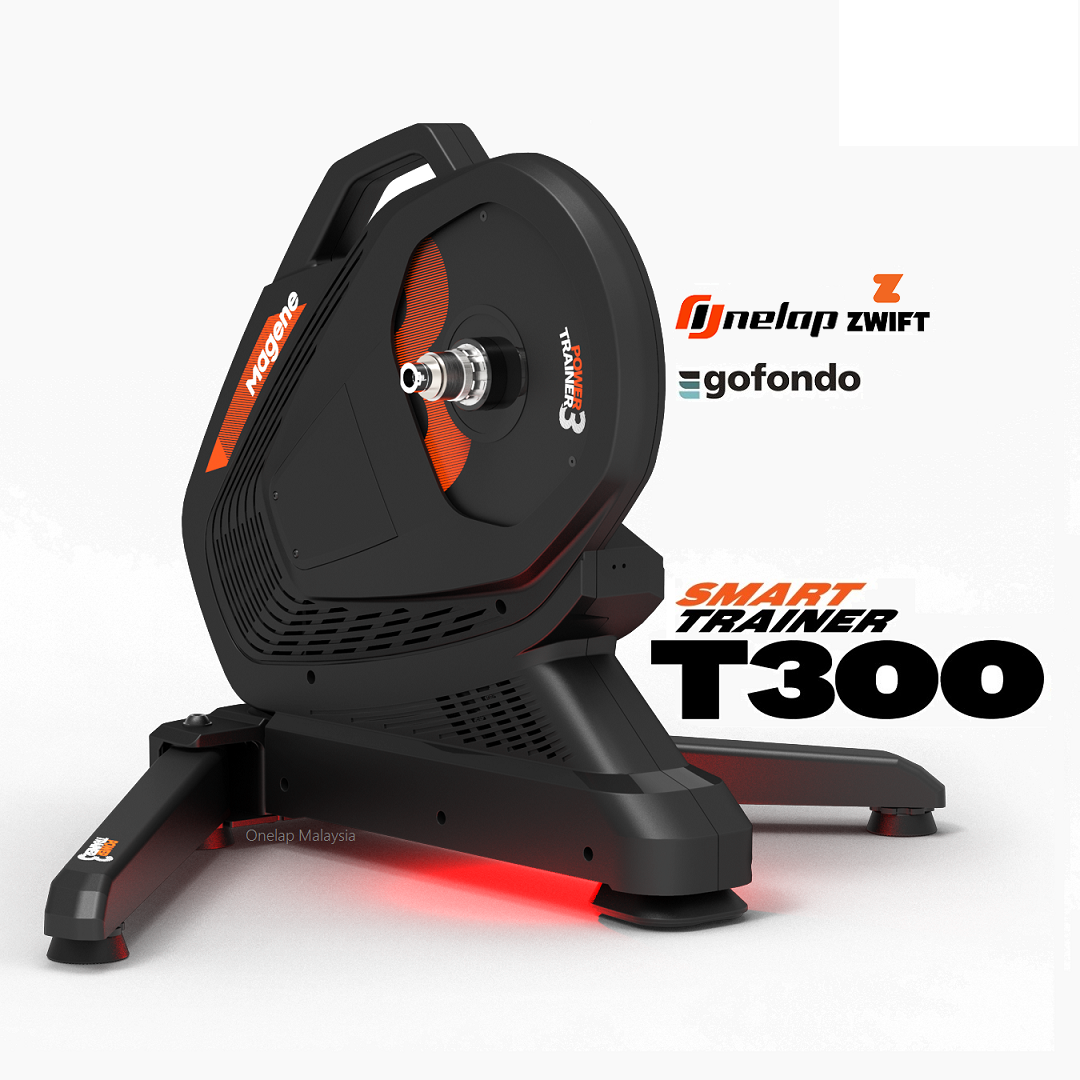 Package RM2899 Included :
1 Unit T300 FULL Smart Trainer

AC Adapter

Sweat Cover

Quick Release Lever Skewer

Thru Axle Adapter For Disc Bike ( 12×142 12×148 )

Onelap 4mm Floor Mat

Shimano R7000 105 11-28/30/32 11Speed Cassette

Quick Release Dropout Converted 130MM/135MM

Converted Washer For 9/10 Speed

Magene ANT+ Dongle Receiver With Extended Cable

UK 3 Pin Power Cord

English Manual Book

After Sales Service Warranty by Onelap Malaysia Kuala Lumpur