>
>
>
>
EVGA DG 85 ATX Computer Case
EVGA DG 85 ATX Computer Case
Key Features
3 Year Warranty
Optimized Airflow Path
Robust Water Cooling Support
Cable Management
Built in Fan Controller + Temperature Sensor
K-Boost Button
Removable Fan Filters
Front and Top Facing Power, Reset Buttons and USB 2.0. Front Facing USB 3.1 Type-C, and HDMI
Easy Removable Door
Supports up to 12 SSD/HDD
GPU Airflow Channel
Optional Segmented PSU Tray Hides Cables
Flexible Fan Support
Easy Access to I/O ports and Clean Cable Output
Completely Removable PCI-E Brackets
Compare
EVGA DG 85 ATX Full Tower Gaming Computer Case, Grey (100-E1-1000-K0)
Introducing the EVGA DG-8 line of full-tower cases. These cases are built for the enthusiast with an optimized airflow path that gives you dedicated cooling fans for your graphics cards, a K-Boost button that automatically boosts fanspeed and CPU/GPU, a built in fan controller and much more. These new line of cases are the ultimate platform for any gaming or graphics enthusiast. With these features and more, it is easy to see how DG means Designed for Gaming!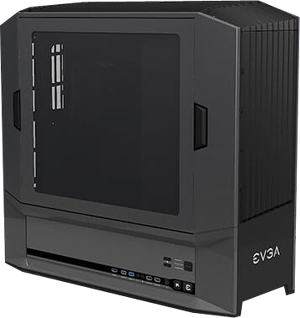 EVGA DG-87
EVGA DG-86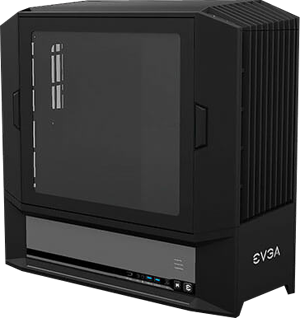 EVGA DG-85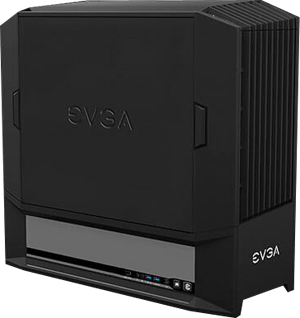 EVGA DG-84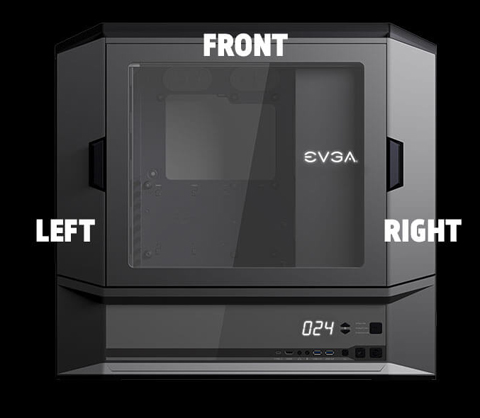 FEATURES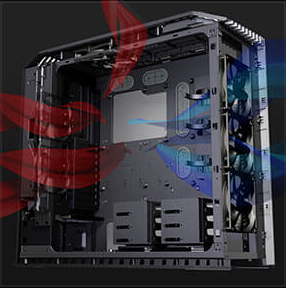 Optimized Airflow Path
Dedicated cooling path for graphics cards, giving ultimate cooling performance and increased clockspeeds.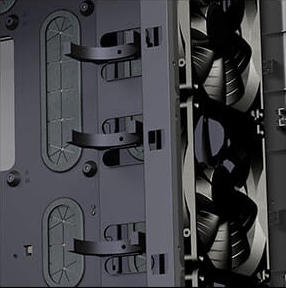 Robust Water Cooling Support
Full support for dual 420mm or 360mm radiators give you ultimate cooling performance, with a dedicated section for mounting reservoir.
Cable Management
Dedicated cable management cutout points lets you keep your system layout clean, improving appearance and airflow.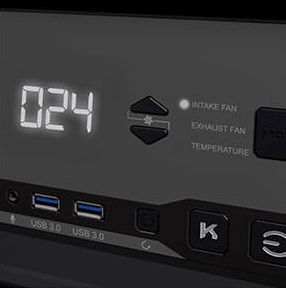 Built Fan Controller + Temperature Sensor
Built in fan controller lets you select your cooling performance, and monitor the case internal temperature.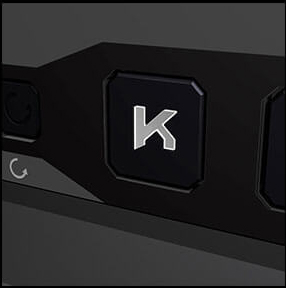 K-Boost Button
Control your performance with EVGA K-Boost! One button boosts GPU and CPU clocks instantly, giving you ultimate control.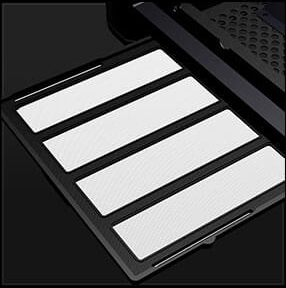 Removable Fan Filters
Easy to remove fan filters keeps your system dust free.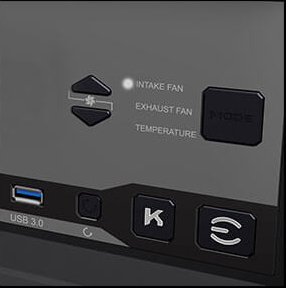 Front and Top Facing Power, Reset Buttons and USB 2.0. Front Facing USB 3.1 Type-C, and HDMI
Easily power on your system whether it is on the floor or desk, make your PC VR-Ready with front facing HDMI and USB.
Easy Removable Door
Flip a switch to remove the entire door, making assembly as easy as can be.
Supports up to 12 SSD/HDD
Dedicated mounting locations on back of motherboard and drive bay keep cables out of the way.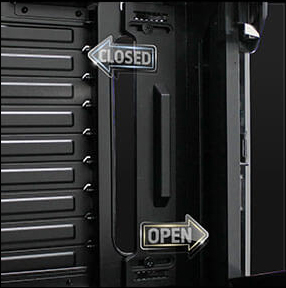 GPU Airflow Channel
Adjustable channel to maximize cooling efficiency depending on your GPU setup.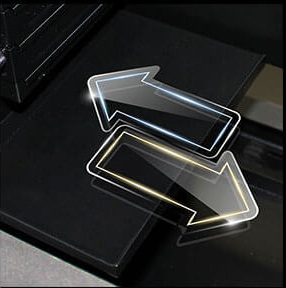 Optional Segmented PSU Tray Hides Cables
Slidable tray keeps your system clean and hides Power Supply cables.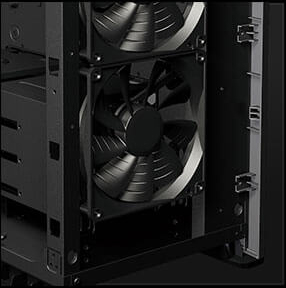 Flexible Fan Support
Supports up to 8 140 or 120mm fans.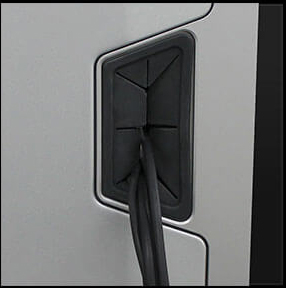 Easy Access to I/O ports and Clean Cable Output
Cables exit on the back of the case, keeping cable management clean, and I/O ports are easily accessed by left door hinge.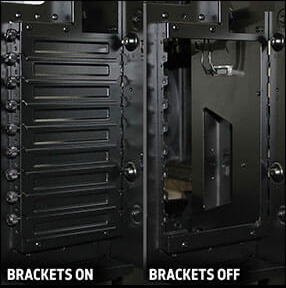 Completely Removable PCI-E Brackets
Remove brackets to increase airflow or easily pass water cooling tubes.
EVGA DG-8 SERIES COMPARISON CHART
Case Name
EVGA DG-87
EVGA DG-86
EVGA DG-85
EVGA DG-84
Window Panel
Yes
Yes
Yes
No
Finish
Metallic Gunmetal Grey
Gunmetal Grey
Gunmetal Grey
Gunmetal Grey
Form Factor Support
mITX/mATX/ATX/E-ATX
mITX/mATX/ATX/E-ATX
mITX/mATX/ATX/E-ATX
mITX/mATX/ATX/E-ATX
Max Graphics Cards
4
4
4
4
I/O Ports (Top)
Power
1
1
1
1
Reset
1
1
1
1
K-Boost
1
1
1
1
USB 2.0
2
2
2
2
I/O Ports (Front)
Power
1
1
1
1
Reset
1
1
1
1
K-Boost
1
1
1
1
USB 3.0
2
2
2
2
USB 3.1 Type-C
1
1
0
0
HDMI
1
1
1
1
Audio (Headphone)
1
1
1
1
Audio (Mic)
1
1
1
1
Storage Support
Max SSD/HDD Supported
12
12
4
4
2.5in SSD
12
12
4
4
3.5in HDD
8
8
2
2
Fans
Fan Controller
Yes (Software+Buttons)
Yes (Software)
No
No
Fan Size
140mm (Default), 120mm (Option)
140mm (Default), 120mm (Option)
140mm (Default), 120mm (Option)
140mm (Default), 120mm (Option)
Max Fan Support
Top x 3, Right x 3, Left x 2
Top x 3, Right x 3, Left x 2
Top x 3, Right x 3, Left x 2
Top x 3, Right x 3, Left x 2
Included Fans
Top x 1, Right x 3, Left x 2
Right x 2, Left x 2
N/A
N/A
Temperature Sensor
Yes
Yes
N/A
N/A
LED Display
Yes
Yes
N/A
N/A
Water Cooling Bracket
Yes
Yes
N/A
N/A
Case Size (LxWxH)
686x270x642.45mm
686x270x642.45mm
686x270x642.45mm
686x270x642.45mm
Individual Shipper Size
740x372x800mm
740x372x800mm
740x372x800mm
740x372x800mm
Case Weight (lb/kg)
43.2bl/19.6kg
43.2bl/19.6kg
37.5lb/17.0kg
38.4lb/17.4kg
Gross Weight
51.1lb/23.2kg
51.1lb/23.2kg
43.4lb/19.7kg
44.3lb/22.1kg