>
>
>
>
>
Jabra PanaCast – Intelligent 180° Panoramic-4K Huddle Room Video Camera
Jabra PanaCast – Intelligent 180° Panoramic-4K Huddle Room Video Camera
Jabra PanaCast – Intelligent 180° Panoramic-4K Huddle Room Video Camera – Inclusive Video Conferencing Camera with Full Room Coverage, Easy to Set Up Wide Angle Webcam for Business & Distance Learning
The PanaCast 180° Panoramic 4K UHD Conferencing Camera from Jabra features three sensors that record at the same time, and the images are automatically stitched in-camera to provide an immersive 180° image. With this field of view, the camera delivers a panoramic image in UHD 4K resolution. Generally, everyone on one side of a room can be captured in a shot. This capability is especially useful in smaller meeting rooms or home offices.
INCLUSIVE VIDEO CONFERENCE CAMERA – Jabra PanaCast is engineered to be the world's first intelligent video conferencing camera. With three 13 MP cameras and real-time video stitching, you'll get full 180° coverage for a natural view of all participants.

INTELLIGENT VIDEO TECHNOLOGY – The intelligent video technology in this wide-angle webcam ensures a great video experience even with varying lighting conditions. Plus, the camera zoom adjusts automatically to include everyone in the conversation.

EASY SET UP – This huddle room 4K webcam features plug-and-play capability, so you can get your conference calls started quickly & easily. Simply plug the Jabra PanaCast into your laptop or computer's USB port and you're ready to go. Includes USB-A cable.

WIDELY COMPATIBLE – Jabra PanaCast can be used with all leading audio & video conferencing solutions. Certified for use with Microsoft Teams and compatible with Zoom and more, you can be confident your team can connect, whatever equipment they're using.

VERSATILE SOLUTIONS – Jabra PanaCast makes it easy to connect with your coworkers, patients, clients, students & staff, no matter if you are at the office or at home. Pair with Jabra Speak audio for an all-around superior video conferencing system.
Compare
We all need a little extra space right now
Huddling together is off the table for a while, so maybe it's time to rethink your meetings. When you need to get together while still keeping your distance, a camera with a full 180° view of the room is the social distancing tool you never knew you needed. With three 13-megapixel cameras and our patented real-time video stitching technology, Jabra PanaCast gives you wall-to-wall coverage of the room in crisp high definition. So, everyone can be included in the frame while keeping a safe distance. PanaCast lets you huddle up, without huddling in.
Highlights of Jabra PanaCast
The perfect partner for Jabra Speak. Bringing your meetings to life
Jabra PanaCast is the world's first intelligent 180° Panoramic-4K video solution2. It works straight out of the box and lets you collaborate with others instantly.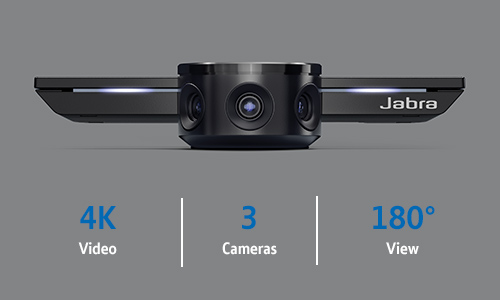 Inclusive meetings
Panoramic-4K video uses three 13-megapixel cameras and patented real-time video stitching to give 180° coverage. This creates a more natural, inclusive view of the room. Pair with Jabra Speak for rich audio too.
Intelligent video technology
Intuitive camera technology adjusts the view to include everyone in the conversation as they join and start speaking. The video quality also adjusts automatically, even under varying lighting conditions.
Instant collaboration
Plug-and-play technology lets you collaborate with others quickly and easily. Jabra PanaCast is a great way to bring hassle-free video and audio to your meeting rooms and optimise how they're used.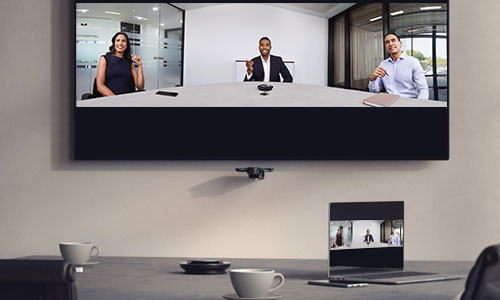 Versatile compatibility
Jabra PanaCast is compatible with all leading video and audio conferencing solutions. It's certified for use with Microsoft Teams and works with Zoom, Cisco Webex and many more communication platforms.