>
>
>
>
>
Toshiba e-Studio 2010AC A4 Color Multifunction Printer
Toshiba e-Studio 2010AC A4 Color Multifunction Printer
Toshiba e-Studio 2010AC A4 Color Multifunction Printer
COMPACT SIZE, ALL-NEW LOOK, AND A POWERFUL PUNCH.
For small and medium businesses and workgroups that demand colour along with a small footprint, Toshiba has answered the call. The e-STUDIO2010AC Series is packed with industry-leading technologies and innovations designed to help workgroups connect, integrate and simplify.
 High-quality document output is guaranteed with the reliable print speed of up to 20 pages per minute.
 Intuitive access to all the functions thanks to the tablet-style 26 cm (10.1") colour touch screen.
 A more accessible connectivity is possible through the support of mobile printing.
Compare
This e-STUDIO 2510AC series is packed with industry-leading technology and innovations designed to help workgroups connect, integrate and simplify.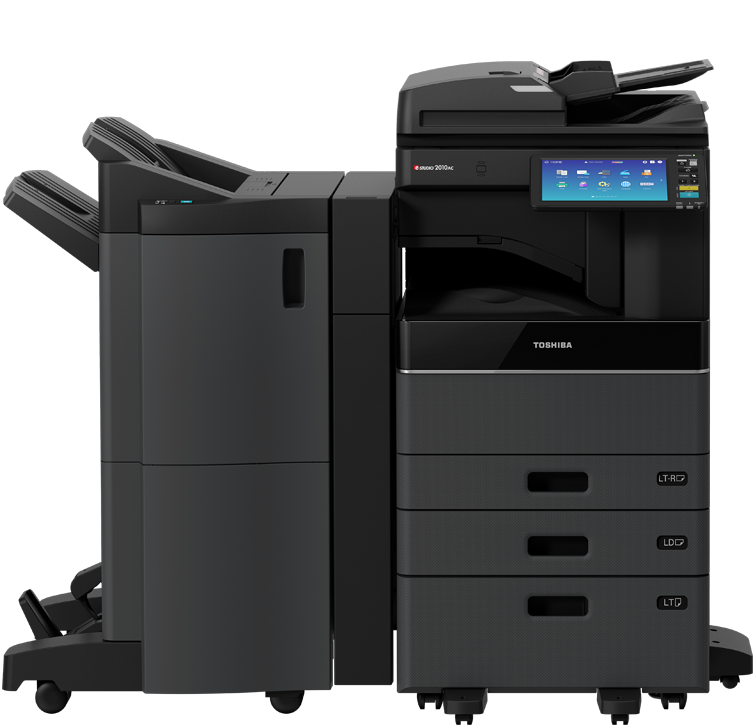 Touch and Swipe with Ease
An easy to see, tablet style 9'' colour touch screen panel works intuitively, helping you find instructions, functions and commands with the swipe of the finger
Multi-Station Print Solution
Toshiba's internally developed Multi-Station Print Solution allows users to send print jobs from their desktop and retrieve them at any convenient MFP by simply swiping their badge and authenticating at that device.
Envelopes- the Perfect Fit
A special envelope cassette is available to hold up to 50 envelopes, making sure each one is fed and printed in the same place, every time.
High Volumes
A high monthly copy volume up to 67200 for e-STUDIO 2010AC & 84,000 for e-STUDIO 2510AC. Toner yields are 33,600 CMY and 38400 K pages (at 5%) respectively.
Advance e-BRIDGE Technology
Built on Linux®, this next-generation e-BRIDGE architecture features an Embedded Web Browser, a fast dual-core processor, 4GB RAM and a 320GB Self Encrypting Drive (SED) enabling the MFP to easily drive Toshiba's internally developed solutions or even third-party applications.
A Clever Inside Pocket
We've put the Authentication Card Reader inside the machine for a cleaner look and safer use.
MAIN SPECIFICATIONS

Copy Process
Indirect Electrostatic Photographic Method/OPC/Laser Printing/Heat Roller Fusing
Display
10.1" Color WVGA Touch Screen Tilting Display
Copy Speed
20 PPM (LT)
First Copy Out
9.5 Seconds Color/ 7.1 Seconds B&W
Warm-Up Time
Approx. 21 Seconds
Copy Resolution
600 x 600 dpi
Stack Feed Bypass
ST-R to LD, Envelope
Multiple Copying
Up to 999 Copies
Paper Capacity
Standard 350 Sheets/Max. 2,900 Sheets
Original Feed
Optional 100-Sheet RADF
Scan Speed & Weights
RADF Scan: Up to 73 IPM (Monochrome or Color), Simplex: 9.3-41.8 lb Bond, Duplex: 13.3-41.8 lb Bond
Max. Original Size
LD
Paper Feed Sizes
Drawer 1: 250 Sheets-ST-R to LD, Stack Feed Bypass: 100 Sheets-3.9" x 5.8" to LD, Opt. Paper Feed Unit: 550 Sheets-ST-R to LD, Opt. 550-Sheet Paper Feed Pedestal-ST-R to LD Opt. 550-Sheet Drawer for PFP -ST-R to LD, Opt. Envelope Cassette for PFP-Approx. 60 Envelopes/550 Sheets-ST-R to LG, Opt. 2,000-Sheet Tandem LCF (Pedestal Type)-LT Only
Paper Weights
Standard: 250 Sheets-16 lb Bond-90 lb Index, Stack Feed Bypass: 100 Sheets-16 lb Bond-110 lb Index, Opt. Paper Feed Unit: 550 Sheets-16 lb Bond-90 lb Index, Opt. 550-Sheet Paper Feed Pedestal: 16 lb Bond-90 lb Index, Opt. 550-Sheet Drawer for PFP: 16 lb Bond-90 lb Index, Opt. Envelope Cassette for PFP: 16 lb Bond-lb Index, Opt. 2,000-Sheet Tandem LCF (Pedestal Type): 17-28 lb Bond
Duplex
Standard Automatic Duplex Unit (16 lb Bond-90 lb Index)
Reproduction Ratio
25% to 400%
Max Duty Cycle
Max. 67.2K Month
Weight
Approx. 126 lb
Approx. Dimensions
22.6" (W) x 23" (D) x 26.1" (H)
Toner Yield
CMY: 33.6K, BK: 38.4K @ 5%
Power Source
120 Volts, 50/60 Hz, 15 Amps
Power Consumption
Maximum 1.5kW (120V)
CPU
Intel Atom™1.33GHz (Dual-Core)
Memory
4GB
Hard Disk Drive
320GB Self-Encrypting Drive FIPS 140-2 Validated
E-BRIDGE NEXT PRINT SPECIFICATIONS

PDL
PCL5e, PCL5c, PCL6 (PCL XL), PS3, PDF, XPS, JPEG
Print Speed
20 Pages Per Minute (LT)
Print Resolution
600 x 600 dpi (5 bit) 600 x 1,200 dpi (1 bit) PS3 Only
Operating Systems
Windows® Vista, Windows Server® 2008/R2, Windows® 7, 8, 8.1, 10, Windows Server® 2012/R2, Macintosh® (Mac OS × 10.4, 10.5, 10.6, 10.7, 10.8, 10.9, 10.10, 10,11), Unix®, Linux®
Network Protocols
TCP/IP (IPv4, IPv6), NetBIOS over TCP/IP, IPX/SPX® for Novell® Environments, EtherTalk® for Macintosh Environments
Printing Protocols
SMB, LPR/LPD, IPP (Ver.1.1) w/Authentication, AppleTalk PAP or EtherTalkTM, Port 9100 (bi-directional), NetWare P-SERVER LPD w/ iPrint, WS Print, FTP
Print Drivers
Windows® Vista SP2 (32-bit, 64-bit), Windows Server® 2008 SP2 (32-bit, 64-bit), Windows Server® 2008 R2 SP1 (64-bit), Windows® 7 SP1 (32-bit, 64-bit), Windows® 8/8.1 (32-bit, 64-bit), Windows Server® 2012/R2 (64-bit), Windows® 10 (32-bit, 64-bit), Mac OS® X 10.6.8, 10.7.4, 10.8, 10.9, 10.10
Interface
RJ-45 Ethernet (10/100/1000 Base-T), USB 2.0 (High-speed), Optional 802.11b/g/n, Wireless LAN, Optional Bluetooth
Wireless Device
AirPrint®, Mopria®, e-BRIDGE Print & Capture Application on iOS and Android (Available via Apple App Store or Google Play)
Device Management
TopAccess, EFMS 6.2 (e-BRIDGE Fleet Management Software)
Account Control
Up to 10,000 users or 1,000 Departments Supports User Authentication (on Device), Login Name/Password (via Windows domain) or Login Name/Password (via LDAP Server) for Copy, Print, Scan, Fax, List, and User Function
Accessibility Features
Tilt Front Panel, Job Programs, Universal Grip for Paper Trays, Disable Screen Timeout and Audible Beep Message Alerts
Security Features
User Authentication, On-Board Data Scramble Function, SCEP, Disable e-Filing, Disable Copy, Disk Overwrite, IP Address Filtering (10 Sets), MAC Address Filtering (10 Sets), Network Service Control, Network Port Control, SMB Packet Signing, SSL (HTTP, IPP, LDAP, SMTP, POP, FTP, DPWS), IPsec (IKEv1, IKEv2), Security Mode Change, CC Certified (ISO/IEC15408 EAL3+)*, IEEE2600.1, IEEE802.1X, Digital Signature for Client Utilities, Password Policy, Password Lock, Password Expiration, Self Testing, Job Access Control, Log Access Control for Job Log, Security Stamp * Compliant with IEEE2600.1 in High security mode.
Environmental Stds
Energy Star (V2.0), EPEAT Gold, Blue Angel Mark (RAL UZ-171, MFD), Canadian ECP, Californian Proposition 65, Nordic Swan, RoHS
Certification
WHQL (Windows 7, 8, 8.1, 10, 2008 R2, 2012, 2012 R2), Novell, Citrix, SAP
SCAN SPECIFICATIONS

Scan Speed
RADF Scan: Up to 73 IPM (Monochrome or Color)
Scan Modes
Standard: Full Color, Auto Color, Monochrome, Grayscale
Scan Resolution
600 dpi, 400 dpi, 300 dpi, 200 dpi, 150 dpi, 100 dpi
File Formats
Monochrome: TIFF-Multi/Single Page, PDF-Multi/Single Page, Searchable PDF (Opt.), XPS-Multi/Single Page, DOCX (Opt.), XLSX (Opt.), PPTX (Opt.) Color/Grayscale: JPEG, TIFF-Multi/Single Page, PDF-Multi/Single Page, Slim PDF, Searchable PDF (Opt.), XPS-Multi/Single Page, DOCX (Opt.), XLSX (Opt.), PPTX (Opt.)
Image Compression
Color/Grayscale: JPEG (High, Middle, Low)
FAX SPECIFICATIONS

Compatibility
Super G3
Data Compression
MH/MR/MMR/JBIG
Transmission Speed
Approx. 3 Seconds Per Page
Fax Modem Speed
Up to 33.6 Kbps
Memory Transmission
100 Jobs (with HDD), 2,000 Destinations Max. 400 Destinations /Job
Scan Speed
0.7 Seconds Per Page, Maximum 73 IPM
E-FILING SPECIFICATIONS

Operation Method
Color Touch Screen Control Panel or Client PC
Number of Boxes
1 Public Box; 200 Private User Boxes
Capacity of Boxes
100 Folder per Box; 400 Documents per Folder; 200 Pages per Documents