>
>
>
>
>
>
>
ASUS RT-AC3200 Tri-Band AC3200 Wireless Gigabit Router
ASUS RT-AC3200 Tri-Band AC3200 Wireless Gigabit Router
ASUS AC3200 Wireless Tri-Band (Dual 5GHz + Single 2.4GHz) Gigabit Wi-Fi Router [RT-AC3200] Ultra-Fast 802.11ac 3200 Mpbs Wi-Fi Speed, 3 x 3 Antenna Design, 4 Gigabit LAN Ports, AiProtection Security
Tri-band with the latest 802.11ac 3×3 technology for maximum throughput (3167 Mbps) and extensive coverage
Smart Band Steering optimizes throughput by automatically allocating clients to different bands
Integrated USB 3.0 and USB 2.0 ports allow for expanded storage and printer sharing within your network
AiProtection Powered by Trend Micro™ provides multi-stage protection from vulnerability detection to protecting sensitive data
ASUS Smart Connect delivers consistent bandwidth by dynamically switching devices between 2.4 and 5 GHz bands based on speed, load and signal strength
Compare
ASUS AC3200 Wireless Tri-Band (Dual 5GHz + Single 2.4GHz) Gigabit Wi-Fi Router
Revolutionary Hardware

Powered by a dual-core processor, the RT-AC3200 has plenty of horsepower to efficiently balance its tri-band 2.4 and dual 5 GHz networks, 4 Gigabit Ethernet ports, and USB 3.0 and 2.0 storage/networking functionality.

Farther Coverage

With a three-transmit, three-receive (3T3R) antenna design, both Wi-Fi range and signal stability improve dramatically, able to reach the farthest stretches of your home. AiRadar beamforming further focuses Wi-Fi signal on your devices, making your Wi-Fi faster, clearer and stronger.

Tri-Band Smart Connect

Devices on your network have varying bandwidth needs and often move throughout the home. Smart Connect manages the traffic assigned to the 2.4 and dual 5 GHz bands on-the-fly, intelligently moving devices from one band to another based on speed, load and signal strength, ensuring that every device enjoys optimized bandwidth and coverage.

Set 'LAN Speed' Records

By utilizing a hardware NAT, the RT-AC3200 removes the bottleneck between the internet and your home network, enabling 2-5 times faster WAN-to-LAN performance vs. traditional software-based NAT.
AiProtection Powered by Trend Micro

Just as wireless technology has evolved, online threats have similarly evolved. AiProtection provides multi-stage protection against these threats. From vulnerability protection and malicious site blocking to preventing already-infected devices from transmitting personal data, AiProtection keeps your digital playground safe and sound.

ASUSWRT User Interface

The RT-AC3200 features the enhanced, intuitive ASUSWRT user interface, which gives you easy access to both the 3-step web-based installation process and a wealth of robust advanced options.

ASUS Router App

With the ASUS Router App it's much easier and more intuitive to manage your ASUS router. From initial setup to real-time network traffic monitoring to managing security settings and connected devices.
ASUS RT-AC3200 Tri-Band AC3200 Wireless Gigabit Router
Ultra-Fast 802.11ac Wi-Fi Router with a combined Tri-Band Data Rate of 3200Mbps for smooth, up-to-4K/UHD video playback, ultra-fast file-sharing for large files and low-latency online gaming.
Tri-Band Smart Connect automatically selects the fastest of the three available frequency bands for each device, based on the device's speed, signal strength and how busy each band is.
Built-In USB 2.0 and USB 3.0 Ports for up to 10-times faster data transfers to USB storage devices, printer sharing, and 3G/4G dongle support.
ASUSWRT Graphical User Interface for easy, CD-free 30-second setup and hassle-free advanced network control.
AiProtection with Trend Micro with triple-strength total network security, plus robust parental controls and privacy protection.
ASUS AiCloud 2.0 lets you access, sync, share and stream your files anywhere, on any Internet-connected device
FEATURES
The RT-AC3200 from ASUS redefines wireless performance – for all your connected devices! With the world's first fastest combined speeds, the widest-ever coverage, plus total security, RT-AC3200 takes your wireless network to the next level. Its state-of-the-art design allows every device to work at full speed, ensuring lag-free online gaming, silky-smooth 4K/UHD video streams, and effortless downloading.
REVOLUTIONARY HARDWARE
Inspired by the awesome design of the ASUS Republic of Gamers G Series Laptops, RT-AC3200 has Stealth Fighter-like lines that exude power and sophistication.
Six External High-Performance Antennas
RT-AC3200 uses two 802.11ac networks, each with a three transmit, three receive (3 x 3) antenna configuration. This is made possible by its six external high performance antennas, and allows more devices to connect faster with better stability.
Dual-Core Processor
Eliminate the performance drops that plague other routers. So even on the busiest home networks, you can enjoy 4K/UHD video streaming that's always smooth, low-latency online gaming and VoIP calls, and file downloads that are never interrupted.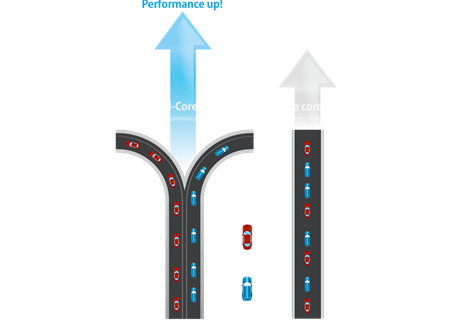 Dual USB Ports
The easy-to-use USB app lets you share printers, storage devices and 3G/4G (HSPA+) dongles over your entire network, and the SuperSpeed USB 3.0 port ensures ultra-fast transfer speeds. Plus, there's plenty of space around each port to accommodate bulkier devices.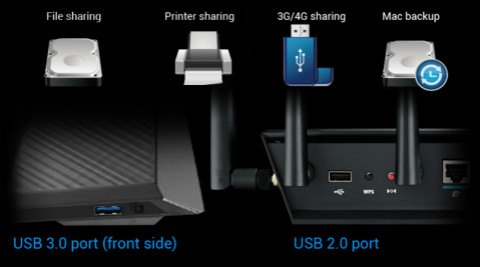 SMART CONNECTIVITY FOR MULTI-DEVICE NETWORKS
With more and more Wi-Fi devices competing for bandwidth on home networks, ranging from slower legacy devices to the latest 802.11ac products, there's a real need for a smart way to make sure every device is working at full speed. RT-AC3200 uses tri-band Smart Connect technology that does exactly that, along with AiRadar universal beamforming for enhanced Wi-Fi coverage and stability.
Enjoy a new level of wireless performance, with 2600Mbps from the two 802.11ac 5GHz bands plus up to 600Mbps on the 2.4GHz band – thanks to Broadcom® TurboQAM™ technology – giving an incredible combined total of 3200Mbps!
Tri-Band Smart Connect
The triple-band design means that faster 5GHz devices are unhindered by slower 2.4GHz devices. Smart Connect automatically selects the optimum band for each device.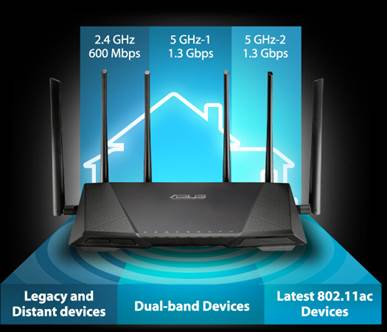 AiRadar Beamforming
ASUS AiRadar intelligently strengthens wireless connectivity using 802.11ac universal beamforming technology, high-power amplification and exclusive ASUS RF fine-tuning.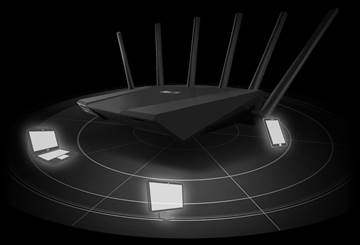 Adaptive QoS
ASUS Adaptive Quality of Service (QoS) optimizes and prioritizes bandwidth, with presets for gaming, media streaming, VoIP, web browsing and file transfers.

Powerful Online Multitasking
RT-AC3200 has a data pipeline that's around 20 times larger than conventional routers – up to 300,000 data sessions – for exceptionally smooth performance.
LIFE IN THE FAST LAN
For the fastest wired networking performance, RT-AC3200 has a dedicated Gigabit Ethernet WAN port plus four Gigabit Ethernet LAN ports. Its powerful hardware-accelerated NAT removes the bottleneck between the wired LAN and the Internet for a lag-free gaming experience.
Hardware NAT
Removes the bottleneck between the Internet and the home network, giving WAN-to-LAN performance that's between 2 – 5 times faster than a traditional software-based NAT.
Dual WAN Support
Configure one of the LAN ports as a WAN to use two Internet connections, either to share Internet traffic between them or so that one can be used as a backup connection should one connection fail.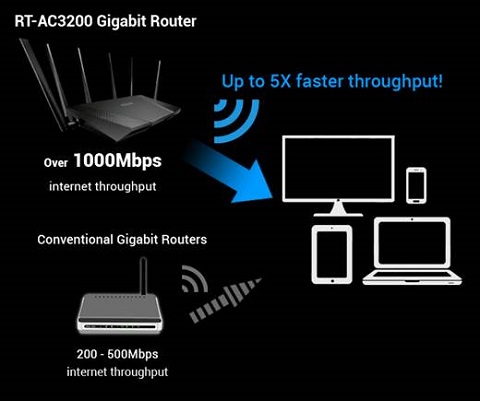 TESTED FOR COMPATIBILITY
RT-AC3200, like all ASUS networking products, is subjected to exhaustive compatibility testing during its development. RT-AC3200 works flawlessly with a vast range of adapters, media players and other wireless devices to ensure the best performance – it even supports the latest-generation Xbox® One and PlayStation® 4 game consoles.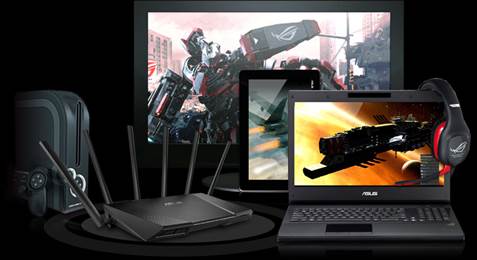 Time Machine® Support
Any USB storage device attached to RT-AC3200 can be used in conjunction with Time Machine® backups for your Apple devices.
WPS
Any device supporting the Wi-Fi Protected Setup (WPS) standard can be connected instantly simply by pressing the WPS button on RT-AC3200.
VAN Support
Create a VPN server or turn your network-connected devices into VPN-enabled clients – with no need for paid VPN services.
THE POWERFUL, USER-FRIENDLY INTERFACE
ASUSWRT
RT-AC3200 features the enhanced ASUSWRT graphical user interface, which gives you easy access to the 30-second, 3-step web-based installation process. It's also where you can configure AiCloud 2.0 and all RT-AC3200's advanced options. ASUSWRT is web-based, so it doesn't need a separate app, or restrict what you can change via mobile devices – you get full access to everything, from any device that can run a web browser.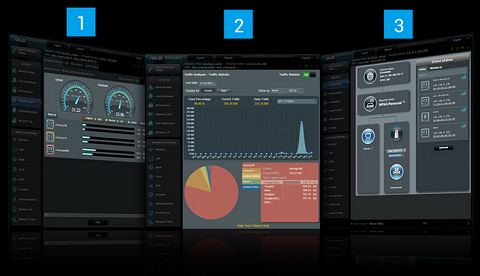 Adaptive QoS – ASUS Adaptive Quality of Service (QoS) optimizes and prioritizes bandwidth, with presets for gaming, media streaming, VoIP, web browsing and file transfers.
Traffic Analyzer – Traffic analyzer helps you spot Internet bottlenecks quickly and easily. It gives you an at-a-glance view of the amount of network bandwidth used by each user, device or application on a daily, weekly or monthly timescale.
Network Map – Comprehensive network map shows you at a glance details of what devices are connected to your router and their connection status.
AIPROTECTION WITH TREND MICRO™ FOR ADVANCED SECURITY
AiProtection, incorporating state-of-the-art, three-pronged security from Trend Micro™, gives you enterprise-level security in the home – it's one of the most secure home routers you can buy! It constantly monitors the health and safety of your network for total peace of mind.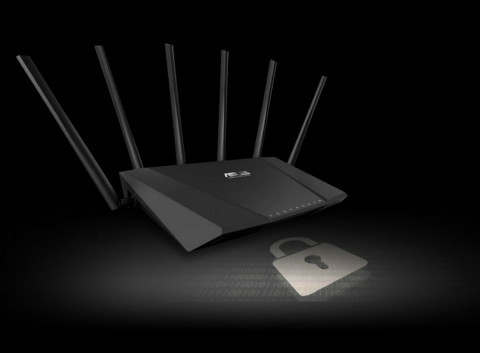 Router Security Scan – Scans your router for any security vulnerabilities and recommends options for improving protection.
Malicious Site-Blocking – Restricts access to known malicious websites in the Trend Micro™ database for always-up-to-date protection.
Vulnerability Protection – The Deep Packet Inspection (DPI) engine gives complete protection against common Internet-based attacks and exploits.
Infected Device Detection and Blocking – Prevents infected devices from communicating personal information and/or infected status to external parties.
Web and App Filters – Keyword and URL filters to block access to unwanted websites and apps.
Time Scheduling – Schedule time limits for specific guest accounts and devices.
CREATE YOUR OWN PERSONAL CLOUD
ASUS AiCloud keeps you close to your data wherever and whenever you have an Internet connection. It links your home network and online storage service, giving you access to your files using the AiCloud mobile app on your iOS, Android smartphones or via a personalized browser URL. You can share photos instantly to services like Facebook, Flickr or Dropbox directly from the AiCloud interface. Even better, AiCloud can be connected to another compatible router to expand your personal cloud even further.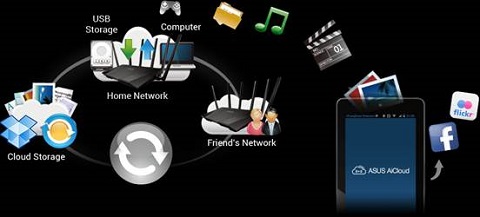 Network Standard

IEEE 802.11a, IEEE 802.11b, IEEE 802.11g, IEEE 802.11n, IEEE 802.11ac, IPv4, IPv6

Product Segment

AC3200 ultimate AC performance : 600+1300+1300 Mbps

Coverage

Large homes

Data Rate

802.11n : up to 450 Mbps
802.11n TurboQAM : up to 600 Mbps
802.11ac : up to 1300 Mbps

Antenna

External antenna x 6

Transmit/Receive

MIMO technology
2.4 GHz 3 x 3
5 GHz-1 3 x 3
5 GHz-2 3 x 3

Memory

128 MB Flash
256 MB RAM

Wi-Fi Technology

Beamforming:standard-based and universal
256QAM high data rate
20/40/80 MHz bandwidth

Operating Frequency

2.4G Hz, 5 GHz-1, 5 GHz-2

Encryption

64-bit WEP, 128-bit WEP, WPA2-PSK, WPA-PSK, WPA-Enterprise , WPA2-Enterprise , Radius with 802.1x, WPS support

Firewall & Access Control

Firewall:SPI intrusion detection,DoS protection
Access control:Parental control, Network service filter, URL filter, Port filter

Management

UPnP, IGMP v1/v2/v3, DNS Proxy, DHCP, NTP Client, DDNS, Port Trigger, Port Forwarding, DMZ, System Event Log

WAN Connection Type

Internet connection type : Automatic IP, Static IP, PPPoE(MPPE supported), PPTP, L2TP

Ports

RJ45 for 10/100/1000/Gigabits BaseT for WAN x 1, RJ45 for 10/100/1000/Gigabits BaseT for LAN x 4
USB 2.0 x 1
USB 3.0 x 1

Button

WPS Button, Reset Button, Power Button, Wireless on/off Button, LED on/off Button

Features

Airtime Fairness
Smart Connect
Traffic Analyzer
Adaptive QoS
AiProtection
Parental Control
Guest Network : 2.4 GHz x 3, 5 GHz-1 x 3, 5 GHz-2 x 3
VPN server : IPSec Pass-Through, PPTP Pass-Through, L2TP Pass-Through, PPTP Server, OpenVPN Server
VPN client : PPTP client, L2TP client, OpenVPN client
Mac OS Backup
Enhanced media server (AiPlayer app compatible)
– Image : Jpeg
– Audio : mp3, wma, wav, pcm, mp4, lpcm, ogg
– Video : asf, avi, divx, mpeg, mpg, ts, vob, wmv, mkv, mov
AiCloud personal cloud service
3G/4G data sharing
Printer Server
– Multifunctional printer support (Windows only)
– LPR protocol support
Download Master
– Support bt, nzb, http, ed2k
– Support encryption, DHT, PEX and magnet link
– Upload and download bandwidth control
– Download scheduling
AiDisk file server
– Samba and FTP server with account management
Dual WAN
IPTV support
Roaming Assist

LED Indicator

Power x 1
Wireless x 2
WAN x 1
LAN x 4
WPS x 1

Power Supply

AC Input : 110V~240V(50~60Hz)
DC Output : 19 V with max. 2.37 A current

OS Support

Windows® 10 86×64
Windows® 8.1 86×64
Windows® 8 86×64
Windows® 7 86×64
Windows® Vista 86×64
Windows® 2000 86×64
Windows® ME
Windows® XP 86×64
Windows® Server 2003
Windows® Server 2008
Mac OS X 10.1
Mac OS X 10.4
Mac OS X 10.5
Mac OS X 10.6
Mac OS X 10.7
Mac OS X 10.8
Mac OS X
Linux Kernel (Support Ubuntu only)
Linux

Dimensions

11.41 x 7.40 x 2.28 inch (WxDxH) ~ cm

Weight

Color

Black

Package Content

RT-AC3200 Tri-band Gigabit Router
RJ-45 Cable
Power Adapter
Quick Start Guide
Warranty Card
Support CD (User manual & Utility software)

Operation mode

Wireless router mode
Access point mode
Media bridge mode