>
>
>
>
>
>
Canon RF 35mm f1.8 IS Macro STM Lens – RF Lenses
Canon RF 35mm f1.8 IS Macro STM Lens – RF Lenses
Canon RF35mm F1.8 IS Macro STM Lens
The Canon RF 35mm F/1.8 IS Macro STM lens has a deliciously fast maximum aperture and exceptional image quality. With this lens attached you can manage the depth of field like a pro and achieve dreamy background blur. The RF 35mm F/1.8 is a brilliant prime lens option for cinematography work. The lens features a customisable control ring and a minimum focus distance of 17cm. Thanks to the STM Stepping AF Motor, the focus performance is sublime, and image quality is assured with Super Spectra lens coatings. When paired with the RF Mount Canon EOS C70, it makes for a lightweight and compact cinematography solution.
RF-Mount Lens/Full-Frame Format
Aperture Range: f/1.8 to f/22
Super Spectra Coating
STM Stepping AF Motor
1:2 Max. Magnification, 6.7″ Min. Focus
Optical Image Stabilizer
Customizable Control Ring
Rounded 9-Blade Diaphragm
Compare
Canon RF 35mm Macro STM Lens
Known for providing the most natural perspective, the 35mm is yet another photography staple that many shooters simply can't leave home without. The RF 35MM F/1.8 IS MACRO STM from Canon's new EOS R full-frame mirrorless system is a versatile tool that can be utilized for travel shooting, close-up work, landscape photography, and more. Compact, lightweight, and travel-friendly, this wide-angle macro prime offers 0.5x magnification with a minimum focusing distance of 6.7 inches, plus it has a maximum aperture of f/1.8 for incredible low-light capabilities and a rounded 9-blade diaphragm for beautiful bokeh. The integrated Dual Sensing IS (5-stop image stabilization) helps combat camera shake while the STM motor ensures silent focusing—both of which make this a great videography lens. Like other RF lenses, the 35mm f/1.8 IS MACRO STM has a dedicated control ring that enables quick, tactile exposure adjustments while looking through the EVF. It also takes advantage of the RF mount, which has a 12-pin connector for fast lens-to-camera communication and a short back focus design for enhanced optical performance. Meanwhile, the lens itself features an advanced optical design and Super Spectra Coating, ensuring exceptionally sharp results with amazing clarity throughout the entire frame.
Designed to take advantage of everything the RF mount has to offer, RF lenses represent a new frontier in lens design for mirrorless cameras.
With a large 54mm lens mount, large diameter elements to match and placement closer to the image plane, RF lenses provide brilliant image quality edge-to-edge with minimal light fallout, enabling new possibilities for enhanced optics and compact designs. A supercharged 12 pin communication system optimizes data transfer between camera and lens for sharp, stable and responsive performance in a wide variety of applications.Delivering features and performance engineered to astound, RF optics herald a new day in Canon's legacy of optical brilliance.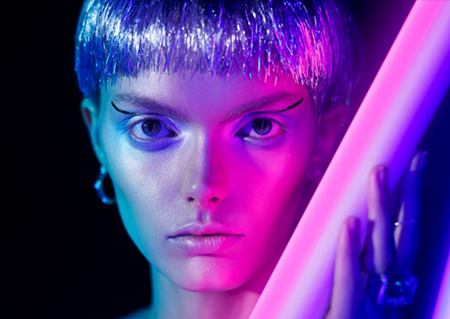 NEW LENS DESIGNS WITH STELLAR IMAGE QUALITY
Control Ring
All RF lenses incorporate a control ring on the lens barrel that can directly adjust numerous settings including shutter speed, aperture, exposure compensation and more. Located towards the front of the lens and effectively adding a third dial to the EOS R camera's main dial and quick control dial, the control ring has a tactile, easily distinguished surface and features a clicking mechanism that provides tangible feedback for confident use while looking through the viewfinder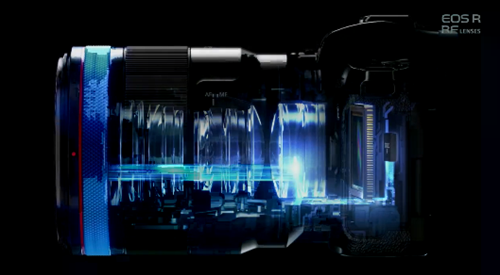 Lens Information Display
Another helpful feature, the EOS R camera can display lens information right in the viewfinder, making it easy to confirm the lens's focal length without looking away from the subject at hand.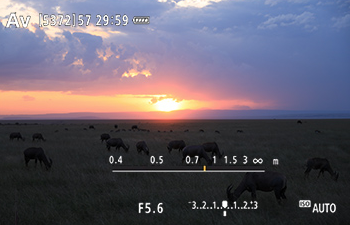 RELIABLE IMAGE STABILIZATION TECHNOLOGY
Optical Image Stabilization
Select RF lenses feature optical image stabilization technology that's designed to work in conjunction with the EOS R camera. Both the camera and the lens share data to dramatically reduce camera-shake blur, regardless of the situation and whether shooting video or stills, to deliver impressively clear results.
0.5X MAGNIFICATION RATIO
RF 35mm F1.8 Macro IS STM
Compact, lightweight and easy to carry, the RF 35mm F1.8 Macro IS STM lens offers amazing versatility in a wide-angle macro lens. It has a 0.5x magnification ratio and a close focusing distance of 0.56 ft./0.71m for excellent macro photography.