>
>
>
>
>
Promate Power Extension, Smart Surge Protector Power Strip
Promate Power Extension, Smart Surge Protector Power Strip
Features
2500W Output
Input: 100V-250V 50/60HZ
Socket:100V-250V, 10A
USB: 5V, 4A
4 USB Charging Ports
3 meters Cable Length
Thin Discreet Body
Safety Guaranteed
Charge 8 Devices Simultaneously
Available on backorder
Compare
Promate Power Extension, Smart Surge Protector Power Strip with 4 Outlets and 4 Quick Charge USB Ports with 3 Meter Extension Cord Charging Station for all AC Socket and USB Powered Devices, PowerStrip-1.UK Black
Promate PowerStrip-1 has a slender, sleek design that complements modern appliances and electronics.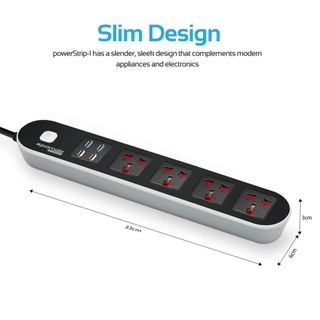 Surge Protection with Overload Protection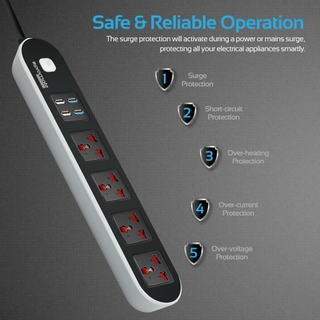 Surge protector protects connected devices from power surges or spikes.The 10A overload protection fuse can automatically shut down the entire power hub during a power overload.
Heat Resistant
PowerGrid-1 is made using fireproof ABS plastic which has a high melting and heating point, protecting your connected devices.4 USB Charging Ports Charge up to 4 USB chargeable simultaneously and directly without an adaptor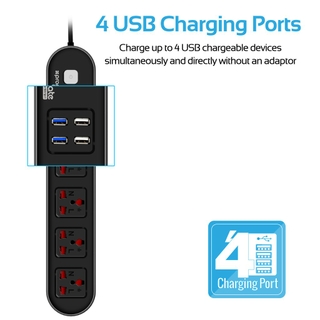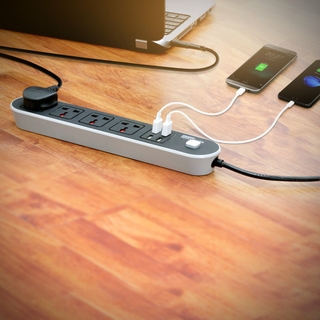 PowerGrid-1 comes equipped with a 300centimetres cable connector, thus enabling you to place it further away from the socket which is ideal for an indoor environment.